Potato Flakes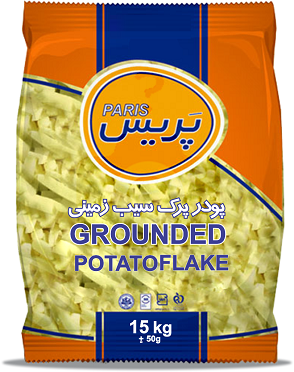 Advantages of Paris Potato Flake
This product can be kept at room temperature.
Expire date for this products is two years and during this time there will be no change in quality
You can make mash potatoes in a very short time.
You can use it in any sort of food instead of potato and save a lot of time.
You can make mash potatoes with different flavors.
For production (1Kg) of potato flake (7Kg) of potato gets used, so it takes a lot less storage space
Packaging
100gr and 200gr packages for home use and 15kg and 20kg packages for commercial use.
How to keep potato flakes?
Keep it for up to 18 months in a cool and dry place, away from direct sunlight.
During food products has been used as a method of keeping food for many years. This method stops biological and chemical changes of the plant tissue, which is usually done by micro organisms and botanical enzyme. Potato flake is one of dried potato products which is made by cooking the potatoes and turning them into mash potatoes, then it gets dried quickly with a roller dryer and at the end the dried sheets are broken to suitable size and packed. Main users of potato flake are families around the world. Potato flake is popular because of its good quality, low cost and its ease of use.
| | | |
| --- | --- | --- |
| Energy | K.Cal | 341 |
| Carbohydrates | gr | 76 |
| Protein | gr | 7/5 |
| Fat | gr | 0/8 |
| Fiber | gr | 2 |
| Ash | gr | 3 |
| Wet | gr | 8 |